TRADING GROUPS – Participants
Can I see the traders in my group without being seen?
No. The basic principle is one of reciprocity. If you can see orders and positions of your group members, they should be able to see yours.
What can the traders in my group see?
They can see the nickname you have chosen, your orders and your open positions. They cannot see your name, your account number or any other information.
Can I see if a trader in my group is using a real account or a papertrade account?
Yes. Papertrade accounts are clearly labeled as papertrade accounts.
I do not want to be visible to my group all the time.
You are not logged into your group automatically. If you do not log into your group, your are not visible.
I do not want see all traders in my group.
If you are only interested in one or more of the traders in your group, you can simply make the others invisible.
What are the basic principles of group interaction?
Administrators and moderators commit to supervising if group members follow these principles:
1. Treat group members with courtesy and respect.
2. Be fair and honest at all times.
3. Do not use foul or insulting language.
4. Do not put pressure on group members or bully them.
5. Do not oblige or pressure group members to place orders or use leverage.
6. Do not give advice on topics which you are not experienced with.
7. Disclose your own position if you state an instrument should be bought or sold.
8. Do not promote or sell any third party products and services.
9. Report all group members who promote or sell third party products and services.
Can I join all groups?
No. Firstly, not all groups are public. Some administrators, when setting up their group, indicate their group is private. You cannot join private groups unless their administrator sends you an invitation. Secondly, some public groups have a limit to the number of members they accept. If the group is at its limit you cannot join for the time being. Finally, some public groups have criteria such as language skills or minimum experience. You must meet a group's criteria in order to join it.
TRADING GROUPS – Administrators and moderators
What is an administrator?
The administrator is the person who sets up the group and subsequently manages it. He is also one of the moderators.
What is a moderator?
A moderator supervises and animates the trading group and sees that the basic principles are respected by the group members. The administrator is always one of the moderators. In addition to himself the administrator can appoint one other moderator.
The presence of a moderator.
The trading group cannot 'meet' in the trading platform without the presence of at least one of the three moderators.
A private group or a public group?
When setting up your group you can choose if it is public or private. If you set up a public group other registered traders can request to join the group. You can see their trader profile and can accept or reject their request. If you set up a private group other registered traders cannot request to join your group. Via the system you can send invitations to traders you know and which you invite to join your group.
TRADING GROUPS – How do I get started?
Note: if you already have a username for the NanoTrader trading platform go immediately to the last question.
What do I need for group trading?
First you need a Trader Profile. Second you need a username for the NanoTrader trading platform.

How do I create my Trader Profile?
Everybody can create a Trader Profile. Creating a Trader Profile is free. You create a Trader Profile simply by registering.
What can I do with my Trader Profile?
You can click on each trading group and read their detailed information. This allows you to find trading groups which you find interesting. An example: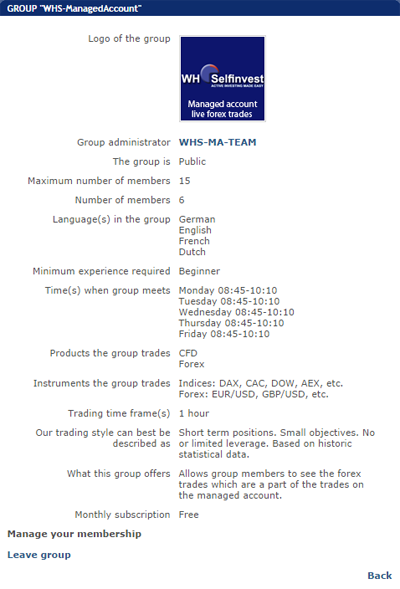 I have found a trading group I wish to join, what now?
To join a trading group you need to have a username for the NanoTrader trading platform. To get a username you need to open a WH SelfInvest brokerage account and select the NanoTrader as your trading platform.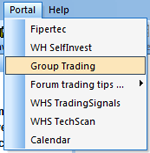 I have a username for the NanoTrader trading platform, what now?
Log into the trading platform. Click Portals in the top menu and select Group Trading. The Group Trading website will open. If you already have a Trader Profile sign in. If you do not yet have a Trader Profile create one. Your username will be linked automatically to your Trader Profile. You are now ready to submit join requests to every public trading group (note: use the 'Join the group' link at the bottom of each group profile). You can now also create your own trading group.